Rho Kinase Inhibitors - Role in Glaucoma and Cornea Practice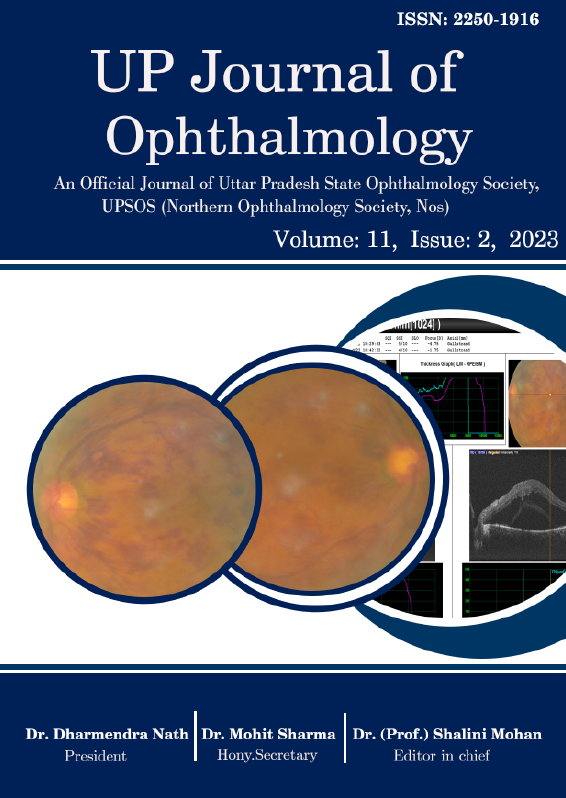 Downloads
Keywords:
cornea, glaucoma, Rho kinase, ROCK inhibitors
License
Copyright (c) 2023 Dr. Neha Kumari, Prof. M Vanathi
This work is licensed under a Creative Commons Attribution-ShareAlike 4.0 International License.
© UPJO, 2023 Open Access This article is licensed under a Creative Commons Attribution 4.0 International License, which permits use, sharing, adaptation, distribution and reproduction in any medium or format, as long as you give appropriate credit to the original author(s) and the source, provide a link to the Creative Commons licence, and indicate if changes were made. The images or other third party material in this article are included in the article's Creative Commons licence, unless indicated otherwise in a credit line to the material. If material is not included in the article's Creative Commons licence and your intended use is not permitted by statutory regulation or exceeds the permitted use, you will need to obtain permission directly from the copyright holder. To view a copy of this licence, visit https://creativecommons.org/licenses/by-nc-sa/4.0/.
Abstract
The rho-kinase pathway has been implicated in the pathogenesis of various ocular disorders like glaucoma, Fuchs corneal
dystrophy, diabetic retinopathy, diabetic macular edema, age-related macular degeneration (AMD), ROP. ROCK molecules and
the ROCK pathway regulate multiple physiological functions, such as cell contraction, migration, proliferation, angiogenesis,
chemotaxis, neural protection and vasodilatation, mainly via reorganization of the cytoskeleton. Corneal endothelium increases
endothelial cell proliferation and adhesion and decreases endothelium to mesenchyme transformation. Various studies have
demonstrated their safety and efficacy for ophthalmic use. This review highlights the use of ROCK inhibitors in glaucoma and
corneal diseases.
How to Cite
1.
Kumari N, Vanathi M. Rho Kinase Inhibitors - Role in Glaucoma and Cornea Practice. UPJO [Internet]. 2023 Jul. 25 [cited 2023 Nov. 30];11(02):44-7. Available from: https://upjo.org/index.php/upjo/article/view/197
Downloads
Download data is not yet available.