Risk Factors and Outcome of Hyphema in Blunt Injury to Eye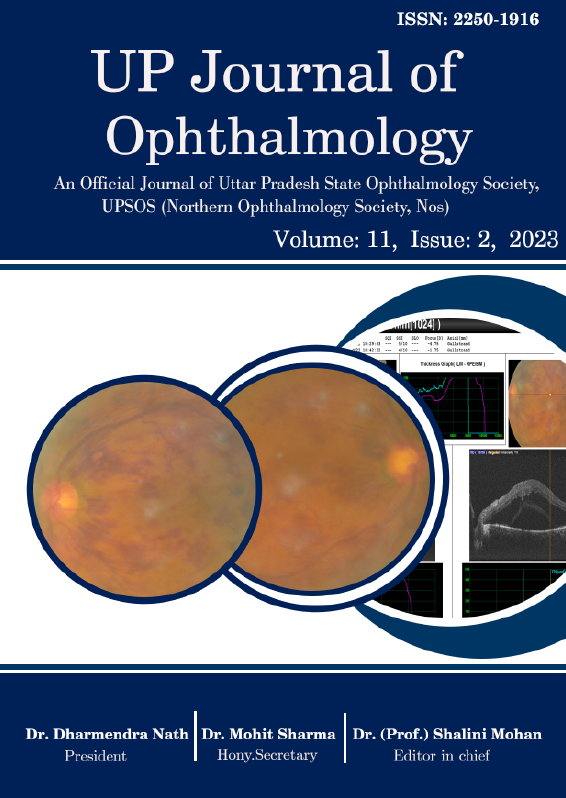 Downloads
License
Copyright (c) 2023 Ram Kumar, Vanshika Khanna, Dipti Wahi
This work is licensed under a Creative Commons Attribution-ShareAlike 4.0 International License.
© UPJO, 2023 Open Access This article is licensed under a Creative Commons Attribution 4.0 International License, which permits use, sharing, adaptation, distribution and reproduction in any medium or format, as long as you give appropriate credit to the original author(s) and the source, provide a link to the Creative Commons licence, and indicate if changes were made. The images or other third party material in this article are included in the article's Creative Commons licence, unless indicated otherwise in a credit line to the material. If material is not included in the article's Creative Commons licence and your intended use is not permitted by statutory regulation or exceeds the permitted use, you will need to obtain permission directly from the copyright holder. To view a copy of this licence, visit https://creativecommons.org/licenses/by-nc-sa/4.0/.
Abstract
Objectives: To study the causes, associated ocular findings and visual acuity on presentation, complications and visual outcome
following treatment in patients of hyphema due to blunt injury.
Methods: A retrospective observational study was performed in 80 patients with hyphema due to blunt injury presenting to
the outpatient and emergency department of the tertiary care centre of Gorakhpur, Uttar Pradesh for a period of 6 months. The
gender, age, race, cause of blunt injury resulting in hyphema, eye involved, vision at admission, other associated ophthalmological
findings, complications and visual outcomes were noted from the case records of patients. The data was analyzed using SPSS
programme using the chi-square test.
Results: Males were more predominantly affected (88.75%). Half of the patients were aged below 30 years. Sports-related injury
(51.25%) was the most common cause for hyphema. Hyphema disappeared within 5 days in 68.5% of patients. Iris injuries were
very commonly associated in the form of mydriasis, iridodialysis. The best corrected vision of 6/18 or better was noted in 46.25%
of patients at the last follow-up. The follow-up of these subjects was very poor and thus the incidence of secondary glaucoma
could not be established. A significant association was seen between Best corrected visual acuity (BCVA) at presentation and
at 6 weeks follow-up (p<0.05).
Conclusion: Sports-related injury is the most common cause of hyphema. Good visual recovery, without serious complications,
is possible with appropriate and in-time treatment in hyphema patients due to blunt injury.
How to Cite
1.
Jaiswal RK, Khanna V, Wahi D. Risk Factors and Outcome of Hyphema in Blunt Injury to Eye. UPJO [Internet]. 2023 Sep. 28 [cited 2023 Nov. 30];11(02):40-3. Available from: https://upjo.org/index.php/upjo/article/view/209
Downloads
Download data is not yet available.
Most read articles by the same author(s)