Descemetopexy: A Little More Than Just Providing Support!! A Gist on Descemet Membrane Detachment and Descemetopexy Procedure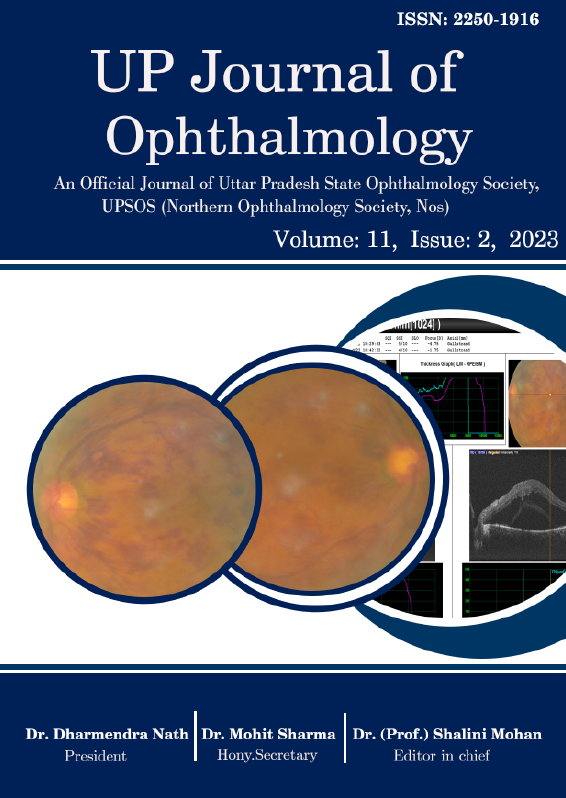 Downloads
Keywords:
descemetopexy, descemet membrane detachment, C3F8, SF6
License
Copyright (c) 2023 Kanika Bhardwaj, Tulika Chauhan, Sagarika Patyal
This work is licensed under a Creative Commons Attribution-ShareAlike 4.0 International License.
© UPJO, 2023 Open Access This article is licensed under a Creative Commons Attribution 4.0 International License, which permits use, sharing, adaptation, distribution and reproduction in any medium or format, as long as you give appropriate credit to the original author(s) and the source, provide a link to the Creative Commons licence, and indicate if changes were made. The images or other third party material in this article are included in the article's Creative Commons licence, unless indicated otherwise in a credit line to the material. If material is not included in the article's Creative Commons licence and your intended use is not permitted by statutory regulation or exceeds the permitted use, you will need to obtain permission directly from the copyright holder. To view a copy of this licence, visit https://creativecommons.org/licenses/by-nc-sa/4.0/.
Abstract
Descemet membrane detachment can be seen after any intraocular procedure but is more common after cataracts and corneal
surgeries, especially in the hands of novice surgeons early in their training period. Prompt recognition and appropriate
management can prevent the decompensation of cornea timely. Descemetopexy is a popular method to reduce cornel edema
and improve patient prognosis. This article gives an insight into the procedure as well as the identification and management
of a descemet membrane detachment.
How to Cite
1.
Bhardwaj K, Chauhan T, Patyal S. Descemetopexy: A Little More Than Just Providing Support!! A Gist on Descemet Membrane Detachment and Descemetopexy Procedure. UPJO [Internet]. 2023 Sep. 20 [cited 2023 Nov. 30];11(02):36-9. Available from: https://upjo.org/index.php/upjo/article/view/196
Downloads
Download data is not yet available.