A Case Report of Lower Eyelid Basal Cell Carcinoma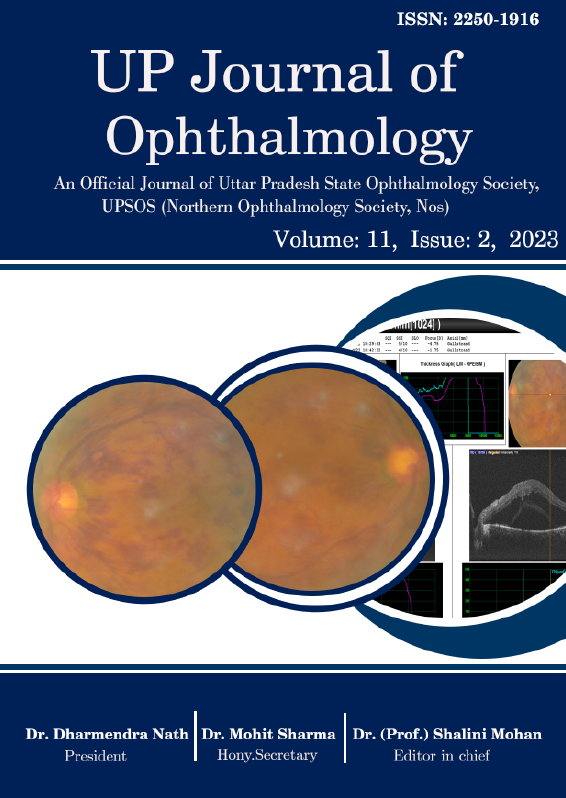 Downloads
License
Copyright (c) 2023 Shweta Sharma, Parul Singh
This work is licensed under a Creative Commons Attribution-ShareAlike 4.0 International License.
© UPJO, 2023 Open Access This article is licensed under a Creative Commons Attribution 4.0 International License, which permits use, sharing, adaptation, distribution and reproduction in any medium or format, as long as you give appropriate credit to the original author(s) and the source, provide a link to the Creative Commons licence, and indicate if changes were made. The images or other third party material in this article are included in the article's Creative Commons licence, unless indicated otherwise in a credit line to the material. If material is not included in the article's Creative Commons licence and your intended use is not permitted by statutory regulation or exceeds the permitted use, you will need to obtain permission directly from the copyright holder. To view a copy of this licence, visit https://creativecommons.org/licenses/by-nc-sa/4.0/.
Abstract
Basal cell carcinoma is the most common skin cancer in humans and is frequently found in the periocular region. It is the most
common type of eyelid cancer, generally characterized by slow growth with rare metastasis and has an excellent prognosis with
current surgical techniques. This is a case report of left lower eyelid basal cell carcinoma for which surgical excision with eyelid reconstruction was performed. Histopathological examination of resected mass was consistent with nodulo-ulcerative basal cell carcinoma.
Early diagnosis and management of suspicious lesions is important to ensure the clinical result.
How to Cite
1.
Sharma S, Singh P. A Case Report of Lower Eyelid Basal Cell Carcinoma. UPJO [Internet]. 2023 Oct. 16 [cited 2023 Nov. 30];11(02):57-8. Available from: https://upjo.org/index.php/upjo/article/view/199
Downloads
Download data is not yet available.
Most read articles by the same author(s)
Jayati Pandey, RN Kushawaha, R C Gupra, Parul Singh, Anuj Kushawaha, An Insight Into Low Vision Aids , UP Journal of Ophthalmology: Vol. 6 No. 01 (2018): UP JOURNAL OF OPHTHALMOLOGY
Shalini Mohan, Shweta Sharma, Namrata Patel, Surbhi Agrawal, Role of Eye Platelet-Rich Plasma in the Treatment of Ocular Surface Disorders , UP Journal of Ophthalmology: Vol. 11 No. 03 (2023): UP JOURNAL OF OPHTHALMOLOGY